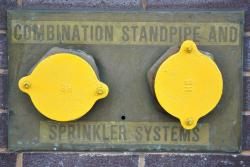 Florian's Look to the Future
Florian was initially started as a fire protection consultant for municipalities. Our main objective was to provide a service to small and large municipalities with fire protection plan reviews. We saw this as a way for municipalities to provide a better service to their community and have it more of a customer friendly service. Currently Florian provides fire protection plan reviews to multiple municipalities throughout the State of Oklahoma. We have also added onto this service for a municipality to also provide code compliance inspections during install and finish of new & existing fire protection systems. At Florian we try not to be one dimensional and try to provide the service that the municipality is wanting, which also includes how fees are and charged, and how the communication line between us, the contractors and the municipality proceeds. We continue to push our name out there and always encourage and municipality or contractor to contact us to see if we can provide the service in their area of need.
Florain's next expansion was into the design business. Currently at Florian we provide a 3rd party fire alarm design for any licensed fire alarm company for any area that we do not do fire protection plan reviews in. Over the past couple of years this has grown with us adding new customers annually. Within this last year we have now expanded into fire sprinkler design, and we currently use the Autosprink program for all of our fire sprinkler design. It was a service that we felt like we have enough background in to provide as a 3rd party design company.
Florian's short term vision (1-5) years is to continue to expand our list of companies for whom we do fire sprinkler & fire alarm design for. We look to get NICET certifications in both fields, starting with fire alarm and then into fire sprinkler. The goal is to have all designers at Florian have a minimum of NICET Level 2 with the hopes that everyone can become at least NICET Level 3. Here at Florian we have also looked into becoming a licensed fire alarm company that would then be able to provide annual certification inspections on fire alarm systems throughout the state. Currently we only provide code-compliance inspections for municipalities. I do not see Florian becoming an installation company, and only look at being a licensed fire alarm company as a way to provide a service to existing fire alarm companies that need relief on annual inspection. Lastly we hope to start becoming a fire consultant not only to municipalities but also to architect firms, and building owners in the pre-construction stage. I have seen many times that change orders during the construction period multiply due to lack of planning. At Florian we would like to be contracted out by architects and building owners to consult on what will be needed for fire protection per the code, and what they might think of to better protect the new or existing property.
Florian's long term vision is to expand to other companies/municipalities here in Oklahoma & other states in both fire protection plan reviews, and also in the fire protection design. We strive to provide a fire protection design that will meet code and go through a review process with no delays or inadequacies that is found by the plan reviewer. We would like to expand to smaller municipalities that are to small to provide their own service due to staff limitations, but would benefit from having us provide the service to their community. This will help in making sure plans are up to code, but also make sure that plans are reviewed in a timely manner to where there is not a delay in the project due to the plan review.